2021 INFINITI Q50 Revised Encino
<! DOCTYPE html>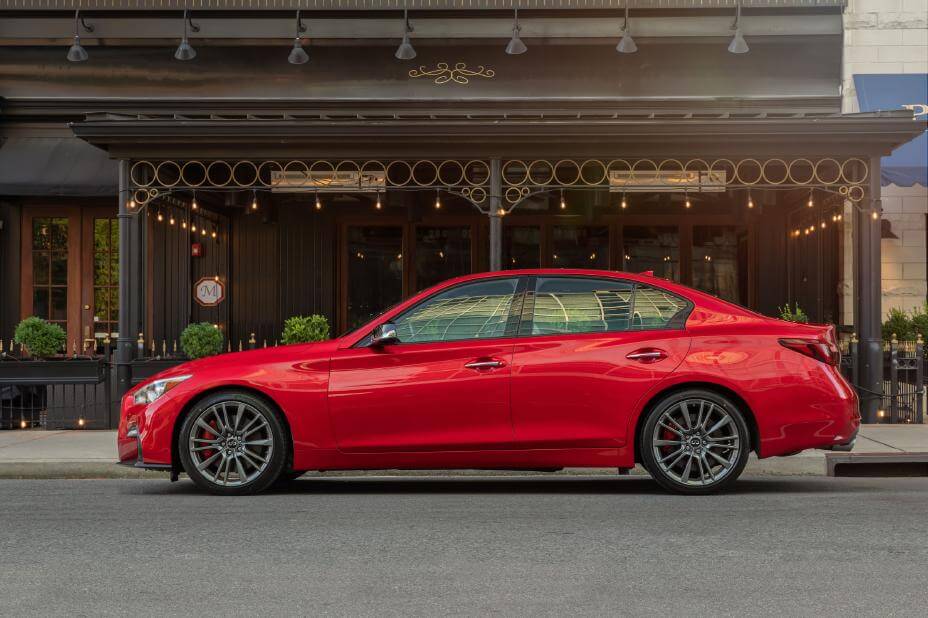 Waiting behind the Q50's signature double-arch grille and wide hood is a choice of two powerful options for the award-winning VR-series 3.0-liter V6 twin-turbo engine. It is available in either 300 horsepower or 400 horsepower and was developed to provide an ideal mix of drivability, efficiency and performance.
The high-output version, which is standard on the Q50 RED SPORT 400, delivers 400 horsepower at 6,400 rpm, the most standard horsepower for any non-specialty model. Torque is rated at 350 lb-ft at 1,600-5,200 rpm.
The standard output version, offered in the Q50 PURE, LUXE and SENSORY models, produces 300 horsepower at 6,400 rpm and 295 lb-ft of torque at 1,600-5,200 rpm.
The VR engine adopts a series of innovative technologies to deliver an engaging driving experience, including a direct-injection gasoline fueling system. The high-pressure direct-injection gasoline system allows for more precise injection of fuel into the combustion chamber, delivering the exact amount required for smooth engine acceleration, depending on throttle position and engine speed. This system makes the VR V6 the cleanest and most fuel-efficient engine of its type that INFINITI has ever offered.
The engine also features lightweight aluminum construction and low mechanical friction – providing smooth, durable and highly responsive performance. Chief among the engine's weight-saving elements is the adoption of spray bore coating for the engine block and integrated exhaust manifold for cylinder heads. Not only does this make the engine lighter, but this also aids cooling, as heat can dissipate more effectively.
One of the engine's many other significant features is the adoption of an integrated exhaust manifold, built into the cylinder head, which positions the catalytic converter closer to the exhaust point. This results in a shorter flow path for the hot exhaust gases, allowing the catalytic converter to heat up almost instantly – twice as fast as previous V6 engines – improving response, while also reducing emissions from a cold start. Moving the catalytic converter closer to the exhaust point also saves weight by making the engine more compact than before.
The Q50 powerplant is matched to an advanced seven-speed, electronically controlled automatic transmission with manual shift mode and available steering wheel-mounted paddle shifters on Q50 SPORT and RED SPORT 400 models. The gearbox features logic and hardware designed to handle the power output of the VR-series engines. Dual transmission coolers are utilized to better diffuse heat.
In addition, the Q50's Adaptive Shift Control enhances gear selection by using a lateral acceleration sensor to detect changes in the road, such as hills and turns. Sport Mode allows the driver to select a more aggressive shift pattern with automatic up- and down-shifting at higher rpm. The Sport Mode allows a more aggressive shift pattern and higher rpm downshifting. Manual Mode, as well as paddle shifters are standard on RED SPORT 400. The combined effect is for any driver to enjoy quick, smooth shifts and gear choices that are appropriate to both the road and the desired driving style.
The 2021 Q50 can be configured with one of two driveline options – rear-wheel drive or Intelligent All-Wheel Drive. Both are available with any of the five grade levels.
Contact
us today for more information.